Super wallpaper
Touch Imagination from the screen display, to the lock screen, to the mobile phone desktop, every screen changes into an imaginary space. Explore the surface of Mars, explore the beauty of the earth, and meet your imagination in front of the screen.
Feel the real power
Incorporate natural and vital climatic elements into the design of the system's weather application. You can feel the climate change at your fingertips and appreciate the beauty of cloudy weather, rain and snow.
Instantly touching
By simulating ecology and deducing nature, we can perceive the sunshine and the spring breeze on one screen, and feel the changing clouds and rain.
As if immersive, bring natural comfort. Close to nature, why only in front of the window.
Application Animation
Miyu light cone dynamic effect architecture : We researched the physics engine and rewritten the underlying rendering mechanism. Through MAML illustration engine, Folme physics engine, Mi Render Engine, elegant visual and animation effects such as perfect dynamic rounded corners, advanced colour mixing, control-level real-time blur, physical space motion, and dynamic forms are realised. Originating from this advanced technical architecture, the system animation has been renewed.
The animation architecture of Mi Pomelo Light Cone, which is significantly ahead of Android, brings real motion effects + visual design across the language and culture, and a super wallpaper that breaks through space limitations.
Application icon delete animation
Brilliant bloom, transfer rhythm.
System icon animation
Button simulation animation "clicks every time you click"
New Camera Interface
Brand new interaction, interface and dynamic effect design.
Support function, color and sound customization at the same time to create a camera that suits your heart.
Full-screen shooting, a new experience. Under the full-screen frame, the shooting button is hollowed out, just like holding the air.
---
New Control UI
---
Add a sense of ceremony to every anniversary
Synesthesia Visualisation
New Visual UI Spans Language and Culture from the real world to efficiently transmit information.
Privacy Protection MIUI 12
New MIUI 12 Privacy security tools for you Stronger than ever
The MIUI not only acts as a competent assistant in your life, but also makes every effort to keep your personal information safe. In MIUI 12, you can easily manage your privacy.
Xiaomi insists on taking information security and privacy protection as the top priority of our work, continuously increases investment in security and privacy, and is committed to standardizing practices, best practices, and technologies in information security and privacy protection Ability to deliver to partners, common development and common protection of user privacy.
Flare
Privacy is fully informed. Flares Expose the sensitive behavior of all applications.
Application behavior record query : All sensitive behaviors of the application are faithfully recorded and presented to you.
App will record location and Give a clear reminder when sensitive system capabilities are used.
Interceptor BARBED WIRE
Comprehensive privacy management
Strong control to take back privacy initiative. Get permission only in app usage, Grant application permissions only when necessary.
Prohibit the use of cameras in the background. High-risk behaviors
are directly prohibited.
Safe sharing. Share life but not privacy.
Hidden mask
MASK SYSTEM is basically Data rights realization. Your data rights are in your hands.
Blank pass : App can be used without permission
Device anonymization logo use restrictions and reset
You can "make a facelift" with a virtual identity
Privacy Management
Understand and manage
your privacy in one place
Privacy certification
Our privacy protection capabilities and measures have passed industry-leading privacy protection certification and testing including TUVRheinland.
Your rights, Xiaomi responsibilities
Xiaomi firmly believes that only by respecting and protecting the user's information security and privacy can the user gain long-term trust in Xiaomi products. Therefore, Xiaomi insists on putting information security and privacy protection first, continuously increasing its investment in security and privacy, and is committed to conveying Xiaomi's normative practices, best practices, and technical capabilities in information security and privacy protection to Partners, develop together and protect user privacy.Private information is your personal asset. How Xiaomi protects your privacy, it is worth going to our privacy website to understand.
---
Intimate and powerful new features come with MIUI 12. The beloved apps have been renewed one after another, and your MIUI has become easier to use, while life and work have become more handy.
Global free window
The global free window may be the world's best mobile multi-task solution. Drag a small window to the side to transform into a small window. Know everything, chat for a day without delay.
AI call
Stay away from harassing phone calls
Accessibility services
Help the hearing impaired communicate with the world.
Self-developed AI motion algorithm, accurate identification, low power consumption
Accurate smart string mobile phone motion detection algorithm, negligible power consumption
On the world's mainstream mobile phones, Xiaomi and Google support a variety of sports behavior perception technologies. Our self-developed AI motion behavior perception algorithm is based on Xiaomi MACE Micro. Not only is the data accurate and high-precision, but it also saves power, with less than 1% power consumption throughout the day * Thanks to this, you can easily have a health center in your phone. (* Taking Xiaomi 10 as an example, the power consumption is 9.5mAh in 24 hours; the data is tested and certified by Theil Lab, report number: B20Z60613)
Xiaomi Health
Everyone can easily record health.
What's new in MIUI 12 ?
Dard Mode in MIUI 12
Now supports thousands of applications, making comfort everywhere.
Game acceleration in MIUI 12
Record high-energy moments, keep glory moments.
Video Toolbox
Breath screen, listening to the drama is also wonderful.
---
Upcoming
Make a list, everything is clear.
Minimalist mode
Elders can also easily use Xiaomi phones.
Smart travel
Smart reminder, travel starts easily.
---
Vientiane Breath
More than 2000 sets of interest screen styles.
Mi Care
MIUI care series products.
Mi Work
MIUI Work Suite.
Mi Go
MIUI Travel Service Suite.
---
Accessibility in MIUI 12
Full support for Google 's accessibility services
Provide customized needs according to local conditions. Comprehensive basic function support based on MIUI system, adding targeted auxiliary operations.
More than 40 intimate active scene prompts
Pay attention to the daily use scenarios of users, and actively prompt each scenario. For example, when the screen is locked, it actively prompts that the screen is closed, and when the screen is turned on, it automatically prompts the time and slides to unlock the operation; the calendar adds a holiday reminder function, and no longer misses any important moment; the guide actively broadcasts the direction, and the direction of progress is guaranteed ; The calculator prompts the calculation result actively, the calculation process is more efficient.
Prompt when the screen is locked
.
Calendar reminder
Active announcement
Prompt calculation results
Seamless operation in MIUI 12
In the normal mode of the MIUI operating system, the answer button will jump continuously, which is difficult for visually impaired users to capture. After the TalkBack mode is turned on, the answer button no longer jumps, the focus is automatically selected on the answer button, double-click the screen to achieve the answer effect.
Directly convert the picture verification code into a voice broadcast method to inform the user. Assist visually impaired users to complete the operation of entering verification codes without obstacles.
---
Accurate Color correction in MIUI 12
In terms of color recognition, it provides accurate color correction for the user groups that have difficulties in distinguishing between red and green and yellow and blue.convenientAccessibility menuSupport customized barrier-free function menus, providing users with a series of convenient direct functions including Xiaoai classmates, power switch, volume adjustment, notification management and so on.
---
Universal remote control for mobile phones close to life in MIUI 12
In daily life scenes, the traditional remote control operation does not have any feedback, and the control of the device does not meet the needs of the visually impaired group. The MIUI operating system provides a universal remote control, which can have instant response and feedback to every step of operation, allowing visually impaired users to easily operate various infrared devices.
For example, a real-time reminder for the operation of the air conditioner page means that each time the user presses a button, he will give feedback in the form of voice to inform the current status of the air conditioner, "the current temperature is 29 degrees. When the user presses the temperature minus button, the current state of the air conditioner is informed, "The current temperature has been adjusted to 25 degrees." In addition, for remote control of cooling / heating mode switching, wind speed, wind direction, etc., the universal remote control supports all.
Fully adapted TalkBack in MiUI 12
On the homepage of the boot guide, double-tap the screen for 10s
System Settings-More Settings-Accessibility-TalkBack
Press the key directly to the volume key +-while holding down for 3s
Wake up Xiao Ai and say "Turn on TalkBack" to Xiao Ai
---
Powerful Xiaomi smells in MIUI 12
Cooperate with Xunfei Hearing, and strive to create a hearing aid tool, suitable for a variety of scenarios for hearing impaired users. Provide flexible switching between global and small window mode, switch between internal recording and external recording at your own pace, and accurate voice-to-word conversion services. Xunfei hearing engine supports real-time voice-to-text conversion, and Chinese Mandarin recognition accuracy rate is up to 98%.
---
Different camera voice subtitles in MiUi 12
The camera records audio video, and the audio information of the video is impeded when it is delivered to the hearing impaired users. The camera supports real-time transcription of voice subtitles, converts all sound information into text information, and presents it to users in the form of subtitles. Bring a unique experience.
---
Intelligent AI phone assistant in MiUi 12
The AI ​​phone assistant converts the voice recognition of the other party into text for you during the call. You only need to tap the intelligently generated reply, or actively edit the text message, and send it to complete the text into voice, and communicate what you express For the other party to conduct barrier-free communication, the venue of the information will no longer be difficult.
---
Fine listening adjustment in MIUI 12
Through the playback of audio and the real-time feedback given by the user, the hearing adjustment is customized for each user. Escort your hearing and bring delicate enjoyment to your hearing!
---
Little love classmate with text interaction in MIUI 12
For the deaf-mute user groups with obstacles in obtaining voice information and transmitting voice information, Xiao Ai supports text interaction and understands your needs better! You only need to press and hold the dialogue button of Xiao Ai's classmates, and you can call out the keyboard to interact with Xiao Ai's classmates in text.30 +
---
Interconnected device control
A variety of smart devices have built-in Xiaoai classmates. At the same time, Mijia can operate a variety of smart devices to realize voice control of the built-in Xiaoai classmates' terminal devices and Mijia control and interconnection smart terminals.
MIUI 12 List of Phases with Supported Devices
The stable version will be fully upgraded Starting from end of June as per MIUI Officials. Here are the List of Device to receive Stable Updates Starting form June.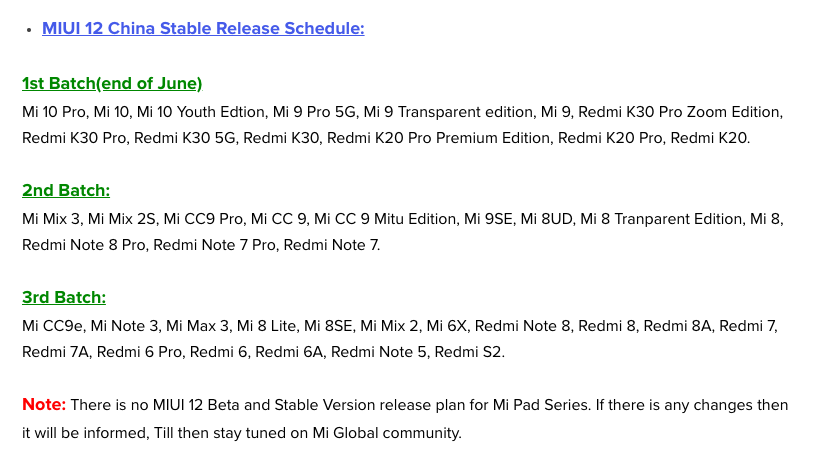 ---
---
---